Egbert van HEEMSKERCK THE ELDER
Smokers in a Tavern (pair)
Oil on panel, 14x17.2cm
Egbert van Heemskerck the Elder (1634–1704) was a Dutch Golden Age painter who specialized in genre scenes of the lower classes in the manner of Adriaen Brouwer. He was born in Haarlem, the Netherlands, to the doctor Jasper Jaspersz van Heemskerck and his wife Marytge Jansdr van Stralen. After his father's death, his mother Marytge married the art dealer Jan Wijnants in 1651.
Van Heemskerck was a pupil of the painter Pieter de Grebber, and he was also influenced by the work of Brouwer and other Dutch genre painters. His early paintings depict scenes of peasant life, often with a humorous or satirical edge. In the 1670s, he moved to England, where he worked at the court of Charles II. It is speculated he may have been patronised by the extravagant courtier John Wilmot, second Earl of Rochester and Baron of Adderbury in England.
Van Heemskerck's paintings are characterized by their lively compositions, their realistic depiction of peasant life, and their humorous or satirical tone. He was a successful painter during his lifetime, and his work is now in the collections of major museums around the world such as Rijksmuseum, Amsterdam, Holland; the Louvre Museum, Paris, France; the Museum of Fine Arts, Tournai, Belgium; the Bowes Museum, Barnard Castle, England; the National Gallery of Victoria, Melbourne, Australia; the Fitzwilliam Museum, Cambridge, England.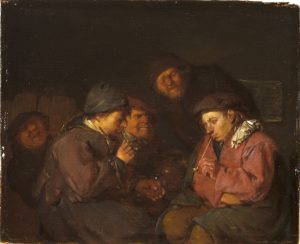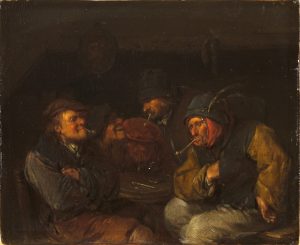 Provenance:
Private collection, Switzerland